Mr. Laurie Pearcey, Pro-Vice Chancellor of the University of New South Wales, paid a visit to UCAS Zhongguancun campus on March 12th. Prof. Wu Yueliang, Vice President of UCAS, met with the delegation.
Wu welcomed the delegation and briefed them on UCAS's "two-phase" mode of cultivation, the high-level research advantages at the University, and the advanced human resources, which are based on more than 100 CAS institutes. He also provided an overview of various collaborative international programs at UCAS.
Laurie Pearcey spoke about the close cooperation between the University of New South Wales and China in education, research and knowledge exchange, all of which are founded on cooperation with government, university and enterprise. He specifically pointed out that the number of publications between the University of New South Wales and UCAS is nearly 400, and these publications have been cited over 7000 times. The two universities have already established a good foundation for further cooperation.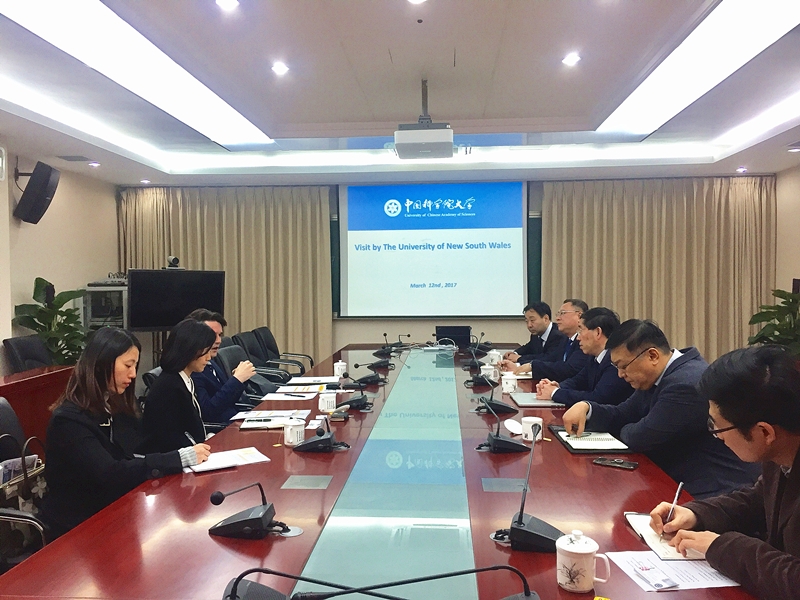 The two sides came to a basic agreement on student exchanges, summer school programs, and the cooperation in cultivating doctoral students , with plans to sign a memorandum of understanding at the university level soon.
A delegation from the University of New South Wales headed by Mr. Warwick Dawson, the knowledge exchange director from corporate affairs, visited UCAS on February 9th 2017. Both sides signed the memorandum of cooperation.
Founded in 1949, the University of New South Wales (UNSW) is one of the best research institutions in the world. The main campus is located in New South Wales, Sydney. UNSW is a member of three famous research-oriented university organizations: APRU, GlobalTech and Universitas 21. It ranks 45th according to the 2017-2018 QS Ranking of World.
The University of New South Wales is also the first Australian university to sign a MOU with the Chinese Scholarship Council. Over 45,000 students attend the university, of which over 12,000 are from China, including 700 doctoral students.